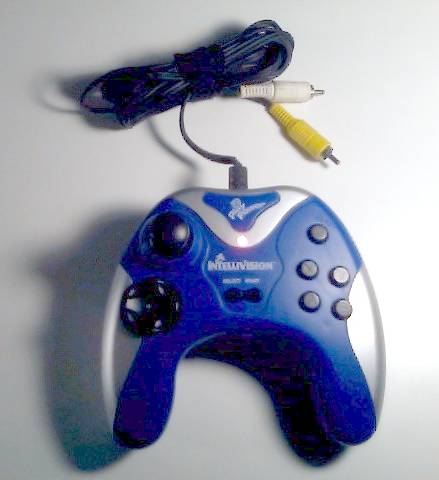 Paid six bucks. Disappointing unit for a variety of reasons.
Controller
The Intellivision had a crazy dial-and-keypad controller with side buttons. It supported plastic overlays for game-specific control instructions, and the dial could detect 16 directions of movement. Some would argue that the Intellivision controller was overly complicated and a pain to use, but it's a huge part of the system's character.
This Plug-and-Play unit uses a pretty standard layout with a d-pad, thumbstick and some face buttons. However, the directional controls are very stiff and unresponsive, and the thumbstick above the d-pad also behaves like a d-pad — not capable of detecting more than 8 directions.
So while it's a concern that the unit doesn't actually resemble an Intellivision controller, it's overshadowed by not even being a competent controller.
Accuracy
The underlying architecture isn't Intellivision: the games featured are reprogrammed for clone NES hardware, and if you look closely at the games, you can spot NES graphical artifacts like map palette corruption at the edge of the screen during 8-way scrolling (Hover Force).
Turn off your high-beams
Lastly, the unit has a red LED power indicator that beams in your eyes while you play.
Included games
I see there is a 10-game version that looks more like a Sega Genesis controller. The one I picked up has 25 games. Some of them are pretty cool, but the shoddy controls and inaccurate representations of the included games are a problem.
ASTROSMASH
BASEBALL
BASKETBALL
BUZZ BOMBERS
FOOTBALL
GOLF
HOCKEY
HOVER FORCE
MOTOCROSS
NIGHT STALKER
PINBALL
SHARK SHARK
SKIING
SNAFU
SPACE ARMADA
SPACE BATTLE
SPACE HAWK
STAR STRIKE
SUB HUNT
THIN ICE
THUNDER CASTLE (missing its soundtrack!)
TOWER OF DOOM
VECTRON
VOLLEYBALL
WRESTLING
Not recommended.